Fageralm
EASE IN TO CHILLING OUT
Why do more and more visitors spend their day skiing on Fageralm?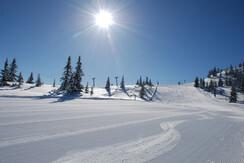 HERE'S WHY!

On Fageralm, you have room on the pistes! Wide, gentle ski-runs await you.
On Fageralm, enjoy long hours of sun, even during the cold of January.
On Fageralm, relax into rowdies-free skiing. It is one of the safest ski resorts.
On Fageralm, you ski only on natural snow. Only runs to the valley have added artificial snow.
On Fageralm, no one gets lost. There are no connected resorts to drift into.
On Fageralm, you will be pampered with culinary treats and personal service at the ski huts. Rustic mountain huts will warm your body and soul.
On Fageralm, relax into your skiing on the sunny high plateau, with a stunning mountain backdrop.
On Fageralm, you can unwind, on Fageralm you can enjoy your day out skiing to the fullest; on Fageralm, "stress" is a not a word, on Fageralm it is only YOU who counts!