Latest Snowcat Technology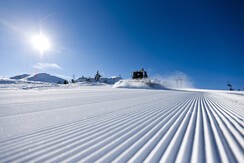 Reiteralm and Fageralm's snow groomers get to work every day, just after the mountain closes and everyone else goes home.

The snowcat fleet consists of ten Prinoth and Kässbohrer snow groomers, and three groomers have modern winches for those hard-to-reach places.
In 2010/2011, two Prinoth Beast snow groomers joined the team.
During a snow-groomer presentation on Reiteralm, the Beasts demonstrated the world's latest winch technology for steepest terrains.