Ski fun guaranteed at Crosspark Reiteralm
Photo trap for the perfect picture of your jump
Sporty, exciting and spectacular! The Crosspark Reiteralm offers a unique skiing and snowboarding experience in addition to the already well-known routes "Cool Running", "Skimovie" and many more.
The Crosspark Reiteralm is located in the middle of the skiing area and the start is close to the mountain stations of the Preunegg Jet gondola lift and the Seppn Jet 4-seater chairlift. It offers fun & action for the whole family. New since the 2018/2019 season is the photo trap at Crosspark. So you can record your perfect jump through the "Almhütte" on camera and share your personal photo highlight with friends via Skiline.
Awaiting you at Crosspark:
750 Meter Skicross Fun
numerous steep turns
lots of action thanks to jumps, waves and scooters
the jump through the alpine hut and your personal photo
What are you waiting for?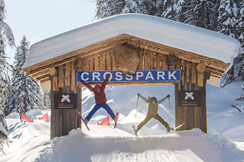 Join us in the Reiteralm & Fageralm ski area and check out our unique Crosspark with photo trap for yourself, in the Schladming Dachstein ski region. You can share your photo from Crosspark with your friends at home via Skiline and make a report of your skiing holiday.
Get your picture of the jump through the alpine hut
Profi Crosspark Reiteralm - The Skicross Elite trains here
In addition to the Crosspark public, there is also a Skicross track suitable for the World Cup which meets all requirements for a perfect Skicross training. The national and international trainer team is enthusiastic about the course on the Reiteralm and declares: "The training and racing possibilities for the Skicross teams on the Reiteralm are unique in the world. The lines can be used twice - skicross as well as boardercross".
Impressions from Training ÖSV Skicross Team women and men: