Alpine Rose Bloom Festival
Celebrate with us on Sunday, the 26th of June 2022! :)
movie: Alpine Rose Bloom Festival 2022
Every year welcomes the popular Alpine Rose Bloom Festival to Reiteralm.
Visitors big and small, old and young from near and far will have a ball at this wonderful annual mountain festival.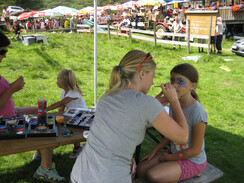 The huts invite you to a cozy get-together with LIVE music - music is played at the Gasselhöhehütte, at the Reiteralmhütte and at the Eiskarhütte.
The "Freistoana z`Gröbming", a Schuhplattler & dance group, also perform at every hut.
"The little ones are BIG"
A varied program is also offered for our little guests:
Regularity races on the Junior Trails:
WHERE: Junior Trails - near the Reiteralmhütte
WHEN: from 1 p.m. to 3 p.m
2 x ride through the easy line - the one with the minimum time difference wins :)
Girls and boys class, from 4 to 15 years, top prizes to win, please register on site

Colorful children's program with handicrafts, games, face painting:
WHERE: "Mountain station" area of ​​the Junior Trails magic carpet
(between Gasselhöhehütte and Reiteralmhütte)
WHEN: from 1:00 p.m. to 3:30 p.m

Hop & jump & hop:
WHERE: near the Preunegg Jet mountain station
WHEN: all day
Hop & jump & hop on the XL jump, on the trampoline and on the bouncy castle

Stack boxes:
WHERE: near the Reiteralmhütte
WHEN: from 1 p.m
... and off to the top :) - well secured, of course!
There is also a big raffle with lots of great prizes, e.g. Ski amade season ski pass, alpine skis and ski touring skis, bike season pass, special Reiteralm backpack, and much more.
The raffle will take place at around 4 p.m. at the Reiteralmhütte.

The exhibition "Warm Holiday Greetings" will be opened and presented by Marlene Schaumberger. This "gallery on the mountain" is located in the Troadkostn, between Gasselhöhe- and Reiteralmhütte.

Here, too, we can point out the great cooperation with all our partners and thank you for the great support!
How to get to the Festival:
On the day of the Alpine Rose Bloom Festival, the Preunegg Jet will be open. The base station is on Preuneggstraße.
The festival is on Reiteralm, which you can reach easily by car using the toll road.
During the festival, there are discounts on both the toll road and for a ride up on gondola.
Below are a few impressions of our festival on 26 June 2022 at the Reiteralm