Young-Family Ticket - the special treat for young families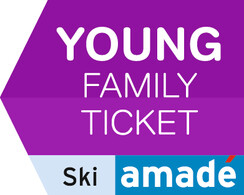 This particular offer is for families with a non-skiing child under three (born 2020 or younger). The ticket can be swapped and used by both parents.
A Young-Family Ticket is available at the usual adult rate
Offer is only valid for multi-day tickets (but not season passes)
Photo required (both parents plus child)
Photo is taken locally
Ski ticket is only available at the ticket desks
Junior Weekend Bonus
To promote sports in the young, children and youth ski in the entire Ski amadè, Austria's greatest ski fun, at reduced rates. There are discounts of up to 35% off the regular price*, every weekend (Saturday and Sunday).


Ski amadé – EASTER FAMILY SPECIAL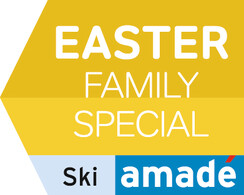 The best offer for families.

From 18th of March 2023, the Easter Bunny is going to be around Ski amadé!

When the season draws to a close, each Ski amadé resort fills with special attractions and events both on and off the slopes to add even more fun to a family ski holiday.


Dates for the Easter Family Special: 18th March, 2023 to end of season.
Information:
Adults purchasing a six-day lift ticket together, get the children's tickets (up to 15 years) free! This offer is available for six- to 18-day ski passes, except for season passes and prepaid ski tickets. Proof of family membership required (mutual residence and confirmation of accommodation for seven-day stay in a Ski amadé resort). No exchange.
Information about accommodation:
Tourist offices Schladming and Forstau
www.schladming-dachstein.at
www.forstau.at
Ski Amadé Quartier-Info
Easter Family Games on Reiteralm and Fageralm:
Age regulations:
Adults
born in and before 2003
Youth
born between 2004 and 2006
Children
born between 2007 and 2016
Toddlers
(valid in Ski amadé)
born in and after 2017