Children area on Reiteralm
movie: children area on Reiteralm
Trail for strollers - "Windel-Wagerl-Weg"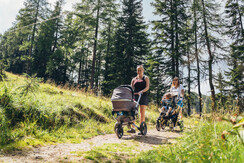 The new baby stroller route has many interesting sights. The trail starts at the mountain station and leads via the Reiteralm lake trail through bright mountain forest to the cosy panorama rest area.
The trail continues to the summer piste equipment, which invites you to explore and try out. At the new Photopoint, you can take beautiful pictures and the large panorama bench invites you to relax and enjoy. The Reiteralm road takes you back to the starting point at the Preunegg Jet mountain station.
Duration approximately 1 hour.
movie: walking war for strollers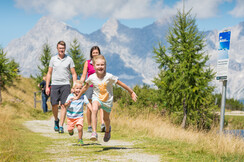 Reiteralm Playground
The Reiteralm playground is located right next to the Preunegg Jet mountain station and features a baby sandbox and sandbox with a mini digger, Reiteralm XL Jump (giant trampoline) and plenty of other amusement equipment.
There are also nice playgrounds for children at the huts.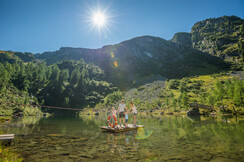 Silent Waters - Family Theme Trail
Family-friendly, lovingly designed theme trail to the natural jewel Lake Untersee - with water playgrounds, illustrated boards, benches, viewing platforms, swings and much more.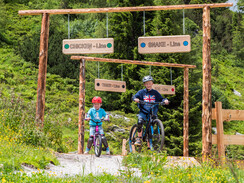 Reiteralm Junior Trails
Here, mountain bike enthusiasts of all ages can race down on two wheels over four routes with different levels of difficulty.