Fageralm - Awards Winter 2015/16
Winter Awards - four distinctions for Fageralm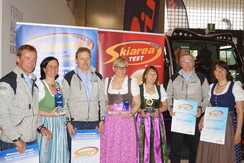 On 8th April, 2016, at the Alpitec 2016 trade fair in Bolzano, the much-coveted Winter Awards for the winter season 2015/16 were assigned. Klaus Hönigsberger, president of International Ski Area Test, welcomed many guests of honour and ski-resort representatives.

Fageralm in Forstau took on the challenge of a full winter season of anonymous tests and checks. Fageralm's dedication in all areas was rewarded with four awards:

- Winter Award 2015/16 for Family Ski Area of the Year 2016
- Best Offer for Children
- Most Friendly Ski Lift Staff
- International NATURAL SNOW Ski-run Quality Seal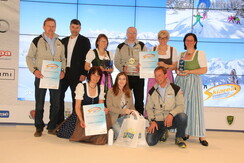 The successful quality checks by the International Ski Area have become a fixed indicator when it comes to safety, quality, and service for ski lift operators in the European alpine regions.


Pictured: a delegation from Fageralm Ski Lifts as well as representatives of the Forstau tourist office and Resch Ski School.