Reiteralm Dirndl
Review: Presentation of the Reiteralm Dirndl Autumn 2012
Festive evening in Pichl/Preunegg
On Saturday, 20th October, 2012, people of Pichl Preunegg enjoyed a celebration of things local:
60 years of Pichl an der Enns' traditional marching band
30 years Pichl/Mandling's church choir
Presentation of the Reiteralm Dirndl
Chairman of the traditional marching band, Helfried Schrempf, welcomed the many guests who came to the colourful sports hall at Pichlmayrgut.
The musical performances were delightful with bandmaster Gottfried Kornberger conducting his band through some true masterpieces and the church choir, lead by choirmaster Kurt Gregurka, performing beautifully songs.
Regional Chairman Pilz gave warm welcoming words to the traditional marching band and the attending guests, emphasising long-lasting loyal friendship.
Mayor Johann Spielbichler thanked and congratulated Pichl's traditional marching band and the. Both are very important and deeply rooted in village life.
The festive evening ended in entertaining discussions about the unique, enjoyable performances.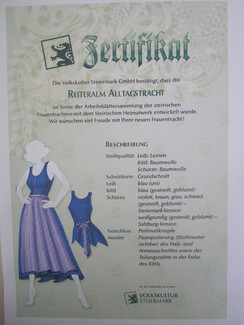 Reiteralm Dirndl – ski mountain and traditional costumes united!
A highlight of Pichl traditional marching band's anniversary concert was the presentation of the Reiteralm-Dirndls by local farmers.
Reiteralm might be the only ski resort with its own officially approved traditional costume – alongside its modern ski lifts, great ski runs, and efficient snow making facilities.
Village farmer Ingrid Mitterwallner briefly explained how the Reiteralm Dirndl idea was implemented and approved by Volkskultur Steiermark. Under tailor Elfriede Schrempf's expertise, the Dirndl dresses were sewn and proudly presented on the runway by Pichl's women.
Managing director Mag. Wolfgang Habersatter complimented the women and congratulated them on their wonderful input to the Reiteralm brand.