Summercard for the Region Schladming -Dachstein
One card for numerous activities - including Reiteralm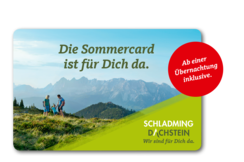 Holiday in the Schladming - Dachstein region becomes a unique experience with the Summercard. One card for a thousand possibilities & activities with many discounts or free services:
Free admission to zoo gardens & petting zoos
Free admission to outdoor swimming pools & lakes
Various admissions to museums (e.g. Winter Sports Museum in Ennstal)
Dachstein Glacier Railway
Numerous other outdoor & indoor inclusive services
The Summercard turns your summer holiday with us on the Reiteralm into an unforgettable adventure in the Schladming - Dachstein region, with great outdoor experiences such as hiking, mountain biking or swimming. Cultural events and museums are not forgotten by the Summercard! More summer experiences are not possible!
The Reiteralm is THE Summercard partner of the Schladming - Dachstein region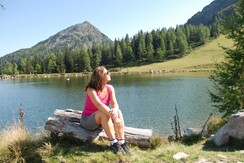 Here some top offers of the Reiteralm & Pichl/ Enns:
Cable car Preunegg Jet - free ride
Reiteralm Road - free ascent
Hiking bus to the Reiteralm - free of charge
Fishing in the Almsee at the Almwelt Austria (Schnepfn Alm)
Recreation lake Pichl - swimming lake & beach volleyball
Further information about the Summercard can be found on the website of the Schladming-Dachstein region. www.sommercard.info
The Reiteralm Mountain Railway team wishes you a wonderful holiday!